3000 Watt Power Inverter 24 Volt DC to 120 Volt AC
3000 watt power inverter can supply 25 amps alternating current through the direct current power supply. This size inverter can be used with a large amount of different sized electrical devices. The 3000 watt 24 volt dc to 120 volt ac allows you to use a 24 volt battery bank to power your household devices.  
If your using a 3000 watt power inverter 24 volt or 12 volt dc (direct current) to 120 volt ac (alternating current) you can easily run the following household devices on the go. Fridges and freezers usually operate at about 8 to 12 amps, so if you mobile food truck this size inverter will keep your cooling system functioning. If you need to power tools for the mobile cleaning or construction truck this size inverter should work well for you. Most small power tool run between 3 and 8 amps, saws with compressor will run at about 10 to 16 amps. If you are looking to use a 3000 watt dc to ac power inverter as an emergency  home backup this size unit will run 1hp sump pumps with ease.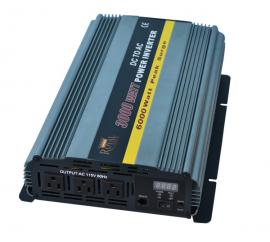 ---